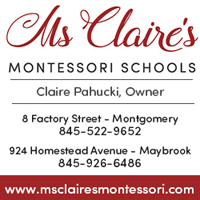 Ms. Claire's Montessori School located at 8 Factory Street in Montgomery, NY is a private school based on the Montessori method of education in Montgomery, NY and was developed by Dr. Maria Montessori, with over 100 years of success in diverse cultures all throughout the world. All the teachers at Ms. Claire's Montessori Schools are NY State certified.
Ms. Claire's Montessori School accepts students from Montgomery, Maybrook, Walden, Pine Bush, Town of Crawford, Washingtonville, Town of Blooming Grove, Campbell Hall, Rock Tavern, the Town of Hamptonburgh, Town of Montgomery, Newburgh, and surrounding Orange County, NY communities.
The Montessori method of education is a child-centered educational approach based on scientific observations of children from birth to adulthood by Dr. Montessori, and appreciates the child as one who is naturally eager for knowledge - and capable of initiating learning in a supportive, thoughtfully prepared learning environment.
It is an approach that values the human spirit and the development of the whole child: physical, social, emotional, cognitive.
" Education is a natural process carried out by the human individual, and is acquired not by listening to words, but by experiences in the environment."
The staff at Ms. Claire's Montessori School in Montgomery, NY strongly believes in the Montessori method and philosophy, and has over 40 years of combined Montessori teaching experience.
At Ms. Claire's Montessori, their program is unique in that our staff is comprised of both Montessori and NYS certified teachers, so they feel that this allow us to provide our students with a complete and comprehensive education experience, and prepares our students for the future.
"The child is both a hope and a promise for mankind."
At Ms. Claire's Montessori School your child will receive Montessori lessons as well as Kindermusik, Art, Yoga and Spanish. They offer low student to teacher ratio for the most effective learning enviroment, ensuring that your child is given every opportunity to succeed.
Students receive individual attention on a one-to-one basis and also benefit from group interactions in which they can build confidence in a larger social environment. Their experienced teachers provide the instruction and motivation for students to perform at their peak.
More importantly, at Ms. Claire's Montessori School in Montgomery they have a close relationship with the Valley Central School District and will personally work hand in hand with your child's Kindergarten teacher to provide consistency for maximum growth.
MS. CLAIRE'S MONTESSORI SCHOOL - MONTESSORI BASED EDUCATION A GREAT PLACE FOR CHILDREN TO LEARN, GROW AND HAVE FUN!
Like Us on facebook!