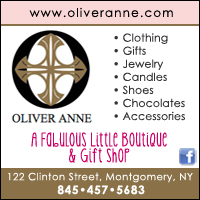 Oliver Anne located at 122 Clinton Street in Montgomery, NY is a fabulous little boutique & gift shop featuring stylish women's clothing, jewelry, shoes, home gifts & decor, chocolates and unique gifts for any occasion - in a clean & cozy relaxed shopping atmosphere. At Oliver Anne, they pride themselves in one on one customer relationships including special orders and custom personal shopping services.
Located in the beautiful and historic village of Montgomery NY, Oliver Anne is surrounded by quaint shops, lovely restaurants and small town charm known throughout Orange County, NY and the Hudson Valley Region.
Oliver Anne is decorated wonderfully in tones of ballerina pink, glittering gold, black accents and finished with creamy white wood work - and with over 20 different quality brands to choose from, they continuously strive to carry unique and stylish gifts, clothing, jewelry and accessories.
More importantly, at Oliver Anne all guests are greeted with a warm smile and friendly accommodating staff - with a dedicated willingness to help accommodate you and your shopping experience any way they can.
OLIVER ANNE - A FABULOUS LITTLE BOUTIQUE & GIFT SHOP LOCATED IN THE BEAUTIFUL AND HISTORIC VILLAGE OF MONTGOMERY, NEW YORK
Like Us on facebook!
https://www.facebook.com/OliverAnneBoutique/
Follow Us on Instagram!