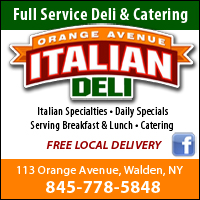 Orange Avenue Italian Deli located at 113 Orange Avenue in Walden, NY is a full service authentic Italian deli and local Italian catering deli that features breakfast sandwiches & wraps, daily lunch specials, Italian specialties, hot &cold sandwiches, specialty sandwiches, wedges & wraps and Boars Head Deli meats to their customers in the Walden, Montgomery, Maybrook and the local Town of Montgomery, NY area.
The Orange Avenue Italian Deli features daily lunch specials, and the best homemade sandwiches, fresh salads and tasty side dishes & salads made from the freshest ingredients - sure to satisfy any appetite or palate. Also, the breakfast and lunch menu at The Orange Avenue Italian Deli is sure to please both children and adults - and features all your favorite breakfast and lunch sandwich options served hot and fresh as ordered.
More importantly, everything at The Orange Avenue Italian Deli in Walden is made to order and served fresh daily, and you can taste the freshness in every bite!
Their handmade Mozzarella and homemade sausage is surely the finest in the area - and all of their specialty subs & sandwiches, Parmigiana subs, homemade side salads, grilled sandwiches, chicken sandwiches, sausage & peppers and everything on their menu is made fresh daily - for you!
Stop in today and experience what eveybody knows! The Orange Avenue Italian Deli in Walden is everyone's favorite local deli in the Walden area!
Like Us on facebook! https://www.facebook.com/Orangeavedeli/