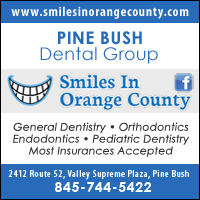 Pine Bush Dental Group located at 2412 Route 52 in Pine Bush, NY provides general dentistry, pediatric dentistry, orthodontics and family dentistry to families in Pine Bush, Bullville, Walker Valley, Walden, Montgomery, the Village of Wallkill, Wurtsboro, Town of Mamakating and surrounding communities. Pine Bush Dental group is a state of the art dental facility that delivers outstanding, quality dental care.
At Pine Bush Dental Group in Pine Bush, NY they pride themselves in providing high quality dental care to their patients in Pine Bush, Town of Crawford, Bullville, Walker Valley, Thompson Ridge, Village of of Wallkill, the Town of Shawangunk and surrounding communities.
Pine Bush Dental Group proudly features a state of the art dental facility that is specifically designed to deliver outstanding dental care by utilizing both the latest and best in dental technologies, and their experienced and dedicated staff is committed to creating a family friendly environment that is both comfortable and caring.
More importantly, at Pine Bush Dental Group they believe a great smile begins at home - routine oral checkups combined with daily brushing and flossing are key in promoting a beautiful and healthy smile.
So remember, the number one goal and priority at Pine Bush Dental Group is to provide the highest quality dental care for all their patients, and we want to do the same for you!