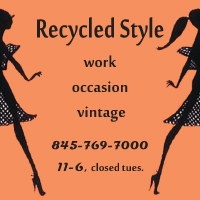 Recycled Style located at 109 Ward Street in Montgomery, NY is a classic women's clothing boutique featuring the finest second hand women's apparel & accessories, gowns & party dresses, shoes, coats, handbags, hats, costume jewelry, furs and vintage lingerie & scarves to their unique shopping customers in Orange County, NY and the local surrounding Montgomery, NY area,
Recycled Style is for women who love clothes (and women who need clothes). Have I left anybody out? I don't think so. Many of us like to shop and rest of us need to shop regularly for work and special occasions.
My shop is arguably, the only place in the lower Hudson Valley where you can find clothes of all eras and the personal styling expertise to create flattering outfits that fit the bill for workdays and any occasions that life presents you.
I've loved fashion since I was five. I've lived abroad and have shopped the world. I still shop constantly to fill my store with quality pieces from all eras. I don't like to brag (but I will) that you won't find a better stylist around.
Between my stock and my fashion know-how I'll show you how to create today's looks with yesterday's pieces!
If you haven't sampled recycled fashion yet, I encourage you to do so. You will find superior fabrics and construction and you will reduce your carbon footprint in the process.
Almost everyone I've encountered has two or three gowns taking up space in their closets that they wore once. Dig them out and consign them at Recycled Style and you'll get half their value in store credit when they sell. When you need a dress for a big occasion, instead of spending hundreds of dollars for a gown you'll wear once, buy a gown that's only been worn once for far less.
Even if you already have your dress, bring it in and I'll help you put together the outfit. If you're worried that you don't know how to shop second-hand, that's where I come in. All it takes is an open mind and the willingness to spend a little time trying things on and I'll guarantee you that everywhere you go people will compliment your style.
Like Us on facebook!