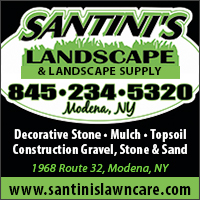 Santini's Landscape located at 1968 Route 32 in Modena, NY is a full service landscaping company that provides lawn care, snow removal and landscaping services to their customers in Newburgh, Wallkill, Poughkeepsie, Montgomery, Walden, New Windsor, Marlboro, Milton,, Town of Esopus, Cornwall, Rosendale and the surrounding Hudson Valley, NY area.
Visit their new landscape supply center for all your landscape supplies in Modena, NY.
Santini's Lawn Care is a fully insured lawn care and landscaping company, and they will professionally and reliably help you with all of your outdoor landscaping needs - big or small.
Santini's Landscape now has a new landscape supply yard located at 1968 Route 32 in Modena, NY - featuring stone construction materials, Decorative stone and bulk Mulch. Call 845 234 5320 to set up your delivery today!
At Santini's Landscape they specialize in all aspects of landscaping and general lawn care, retaining walls & patios, and snow plowing and snow removal services - and because they are family owned and operated, their primary goal and objective is to get the job done right, on time and on budget.
Lawn Care - If you are a home owner in the local Hudson Valley area chances are you have a lawn and landscaping in front of your home. How many hours a week do you have to spend general lawn maintenance?
With today's busy home owners, it is often difficult to keep your lawn looking healthy and beautiful without spending all of your free time doing it - and many people think that it's too expensive to hire someone to maintain it for them.
You may be surprised to learn you can maintain your lawn for as little as $35 per week. That's only $5 per day – what is your time worth?
Landscaping - Santini Landscape utilizes the latest in 3-D technology to help you envision your next landscaping design project. From pavers to hardscaping we will do it right the first time and add value and years of maintenance free beauty to your home.
Whether you want to build a retaining wall to add beauty and increase integrity of your topography or add a pool deck to lounge and entertain on, we can create the design of your dreams.
Snow Removal - Santini's Landscape can help you with your winter worries. Santini's Landscape will work around any winter budget , whether it is for a commercial or residential property.
Santini's Landscape has the staff and equipment to get any amount of snow that may fall in your way, out of your way. Santini's Landscape offers budget contracts for the winter months with small monthly payments that fit your budget.
Fall & Spring Clean Up - Santini's Landscape offers Fall and Spring cleanups for your property needs. Fall and Spring cleanups include blowing of the lawns, first or final mowing and any extras that you may add.
Like us on Facebook!
https://www.facebook.com/pages/Santinis-Lawn-Care/113032552080072