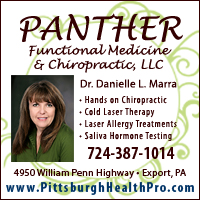 *Chiropractic *Functional Medicine *Laser Therapy *Hormone Testing
Danielle L. Marra, DC of Panther Functional Medicine & Chiropractic LLC, is located at 4950 William Penn Highway Export/Murrysville PA 15632, and 82 Huff Ave Greensburg PA 15601. Dr. Marra has been practicing hands on chiropractic care for over 19+ years along with functional medicine treatments. As a chiropractor, Dr. Marra offers spinal treatments, cold laser therapy, laser allergy treatments, neuropathy relief program, rapid release scar tissue therapy, hormone testing for autoimmune systems, LYME disease, paternity testing, rapid strep testing, saliva hormone testing, shockwave therapy, thyroid & urine testing, digestive disorders, massage therapy, ionic foot detox, CDL physicals, thermography and much more. Dr. Marra is Webster Technique certified treating pregnant women and children.
Locally owned and operated, Danielle L. Marra, DC and Panther Functional Medicine & Chiropractic LLC proudly serves the Export, Murrysville, Delmont, Harrison City, Trafford, Level Green, Greensburg, Plum Boro, Monroeville, New Alexandria, North Huntingdon, Irwin, Pittsburgh and surrounding areas.
We accept most types of Insurance. Forms of payment accepted by the office are check, cash, or Visa/MasterCard. We also accept Care Credit, www.carecredit.com