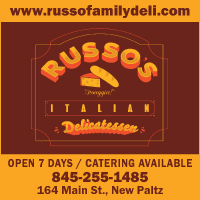 Russo's Italian Deli located at 164 Main Street in New Paltz, NY is a full service deli and Italian catering deli in New Paltz featuring the freshest homemade deli specials, specialty sandwiches, daily lunch specials, homemade bread and cheeses, Imported meats & cheeses, and the best catering services in the New Paltz, NY area - with seasonal pet friendly local outdoor dinning.
Russo's Italian Deli is a family owned and operated deli in New Paltz whose culinary goal is simple and straight forward - to provide their customers with the best traditional old world quality food, in a clean, comfortable family atmosphere and at a fair and reasonable price.
Russo's Menu Link: https://www.russofamilydeli.com/#menu-section
Russo's Deli offers the best deli and catering services in New Paltz, and has many catering packages and options to choose from.
More importantly, the Russo Italian Deli staff will provide you with personal and attentive cutomer service, while serving wonderful food that is made fresh daily with only the freshest, highest quality ingredients. Why go anywhere else?!
One visit to Russo's Italian Deli in New Paltz will convince you - whether you choose a daily sandwich special for lunch, party food platter for the office, or their catering services for a catered event - Russo's Italian Deli will make you a satisfied customer.
When your name is on the sign hanging outside the building, you constantly strive to be the best! Russo's Italian Deli & Catering in New Paltz is open 5 days a week, call or stop in today and visit our family!
Russo's Italian Deli Catering Service - Please consider Russo's Italian Deli in New Paltz, NY for your next private party, business meeting or catered event.
When you choose Russo's Italian Deli Catering Services in New Platz to cater your private party or corporate/business event, you will give your guests a memorable experience of simply amazing food.
Owners Carmine & Debbie Russo and their catering chefs will personally meet with you to customize a menu that is perfect for your catered event - and your budget!
The Russos...
Carmine (Pa): From Savona, Italy, moved to Brooklyn, New York in 1971 and shortly thereafter to New Paltz. Having been the youngest in a family of ten children, he learned how to cook early on from his six sisters. In 1978 he married New Paltz native...
Debbie (Madre Morbido): Whose family moved to New Paltz in the 1930s and was one of the first Italian families to settle in the area. In 1981 the couple moved to Houston, Texas where they owned and operated Carmine's Italian Restaurant. In 1986 they moved home to New Paltz upon the birth of their first child...
Vincenzo (Vinny): Who worked his way through college in pizzerias to earn a Bachelors degree in Business Adminstration. In 1987 Vinny's first bestfriend arrived in the form of a baby girl...
Marina (MeMe): The baby of the family dicovered her love for food service at a very young age and has worked in the industry for over a decade, from Deli's, to Restaurants, to Bars. After Graduating from college Marina went to Italy for the summer and fell for the Italian way of life.
RUSSO'S ITALIAN DELI - CATERING SERVICE - DAILY LUNCH SPECIALS - EAT IN OR TAKE OUT - SEASONAL OUTDOOR PET FRIENDLY DINING
Like us on Facebook!
https://www.facebook.com/pages/Russos-Italian-Deli/131403763666412
Check us out on Instagram!