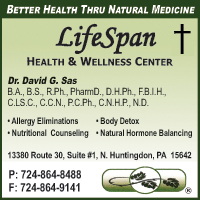 LifeSpan Health & Wellness Center and Dr. David Sas
located on US-30 North Huntingdon PA 15642, offers
Better Health Thru NATURAL MEDICINE
to all of the North Huntingdon & Pittsburgh areas. Dr. David Sas is a qualified
LifeSpan Pharmacist
focused to help you stay healthy and effectively manage an existing condition with 'self-care' preventative maintenance programs and natural product selections. Dr. Sas can develop individual natural medicine and nutritional supplement programs for you that safely complement your existing pharmaceutical care.
Offering natural therapies for allergy eliminations, natural hormone replacement therapy, chronic fatigue, cold/flu & immune support, stress management, ion-cleanse body detox, nutritinal counseling and more! Consultation services and laboratory testing for hormones, amino acids, gastroenterology, endocrinology, nutritional levels, metabolic, salivary hormones, breast thermography and more!
LifeSpan Health & Wellness Center is also a Compounding Pharmacy! A Compounding Pharmacist is a trained professional using their education and skill to create customized medications, individualized for each patient. This is the original practice of Pharmacy.
The Latest Health Topics with Dr. David Sas
Ask the Pharmacist Weekly Radio Show
620 AM WKHB
Wednesdays: 12:00 PM - 1:00 PM
Mondays: 12:00 PM - 1:00 PM (Repeat of Wednesday's show)
Fridays: 12:00 PM - 1:00 PM (Archive Show)
LifeSpan Health & Wellness Center and Dr. David Sas offers wellness care to patients in the areas of: North Huntingdon, Irwin, White Oak, North Versailles, Monroeville, Plum Boro, Murrysville, Export, Delmont, Greensburg, Jeanette, Latrobe, Harrison City, Trafford, Level Green, Pittsburgh PA and the surrounding areas.