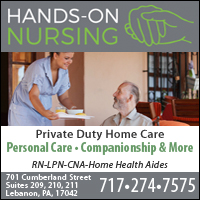 Hands-On Nursing Agency in Lebanon, PA provides Nurses, including registered nurses (RN), licensed practical (LPN), certified nursing assistants, health care aides and medical assistant for private duty home care or staff relief.
Hands-On Nursing Agency serves Lebanon County and surrounding areas including: Palmyra, Annville, Campbelltown, Cleona, Lebanon, Jonestown, Myerstown, Fredricksburg, Schaefferstown, Rexmont, Quentin, Fort Indian Town Gap and the surrounding areas with 24 hour service, 7 days a week.
What We Provide:
Staff Relief
Short-term care nursing care, long-term care nursing care and temporary care in nursing homes, retirement homes, hospitals and doctor offices by all levels of nursing.
Private Home Care
Private duty home care services in private home settings.
Including:
Bathing
Personal hygiene
Dressing
Companionship
Meal preparation
House keeping
Laundry
Transportation
Medication dispersment
Hospice Care
Assisting individual and family needs for Hospice care from professional health care providers.
Including:
Respite time for family
Medication dispersment
Companionship
Assisting client with comfort and needs
Temporary Nursing Home Assistance
Providing temporary Nursing Home assistance.
Including:
All levels of nursing provided by Registered nurses
Licensed practical nurses to fill in all shift needs for nursing Home facilities
Certified nursing assistants to fill in all shift needs for nursing Home facilities
Assessment
Free initial assessment
RN Caseworker will meet with family and answer any questions you have about our services for your loved ones. The RN will complete a client assessment, service contract and a detailed plan of care. Once all questions are answered and plan of care completed, our RN caseworker will bring all information back to Hands-On Nursing office and the services will be scheduled. Client and family to be contacted once services scheduled.
Our focus is...
We strive to be responsive to facility and our clients' needs with rapid response and ongoing communication. We provide our services with honesty, professionalism, compassion and respect.
&
Continue Highly Competitive Rates!