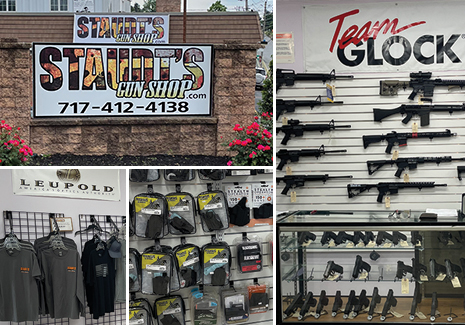 Searching for New or Used Guns, Pistols, Rifles, Shot Guns, Hand Guns, Firearms, Hunting Rifles, Concealed Carry Guns, Tactical Weapons, Gunsmithing, Cerakote, Gun Safes or a Custom Built Gun?
All roads lead to Staudt's Gun Shop conveniently located at 4669 Allentown Boulevard in Harrisburg PA only minutes from Annville, Camp Hill, Cleona, Hershey, Hummelstown, Grantville, Highspire, Jonestown, Lebanon, Middletown, Myerstown, and Steelton, PA.
Staudt's Gun Shop is a Veteran owned business. Customer service is our number one priority. We provide a full range of services including new and used firearm sales and gunsmithing. We buy, sell and trade used guns. Our gunsmith services range from repairs and refinishing to building custom guns. Staudt's Gun Shop is also the exclusive Harrisburg dealer for Champion Safe Co., the finest built safes in the U.S. We also sell Golden Spike Vault Doors.
Staudt's Gun Shop as a large selection of Concealed Carry Handguns and Pistols. You will also find Concealed Carry Holsters, Firearm Belts, Pouches, Handbags, Bandoliers and Gear.

The owner, Joe Staudt is a retired Marine Sergeant Major and a combat veteran. He has been a firearm enthusiast and a collector of firearms for many years. He opened Staudt's Gun Shop in June of 2011. Joe is married and has four sons and four grandchildren.

We are a Class III firearms dealer. Contact us for your short barrel rifle, full-auto and surpressor needs. For more info, please contact Joe at (717) 412-4138 or joe@staudtsgunshop.com

We carry a wide variety of in-stock pistols, hunting rifles and tactical weapons. If there's something in particular you are looking for, we can also obtain firearms we don't have in stock.