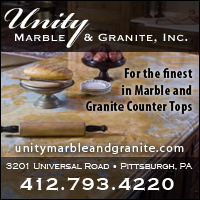 Welcome to Unity Marble & Granite, Inc. located in Pittsburgh (Penn Hills) Pa. We offer the best value at an affordable price for granite and marble in the Pittsburgh and surrounding areas. Visit us to view our colorful selections of granite, quartzite, marble, stone and quartz for your kitchen counter tops, bar tops and vanity tops with a variety of profiled edges. Our custom fabrication also entails fireplace hearths and surrounds, table tops, outdoor grills, shower sills and shelves and various other projects. Our quality installation finishes your perfect project!

Unity Marble & Granite has become a well-known fabrication and installation shop creating beautiful kitchen counter tops, bathroom counter tops or any project imaginable in the greater Pittsburgh area. Locally owned and operated by John Carlino, Johnny has carried out his family heritage proving his reputation in stonework as a quality craftsman in a truly traditional way. Unity Marble & Granite has been servicing the area while setting the standards in quality installation since 1997.

Now celebrating 20 years of expert custom fabrication and quality installation of granite, quartzite, marble, stone and quartz, Unity Marble & Granite is proud to serve the following communities: Penn Hills, Murrysville, Delmont, Export, Monroeville, Plum Boro, Oakmont, Verona, Pitcairn, Pittsburgh East-Downtown Pittsburgh neighborhoods of Bloomfield, Bluff, East Hills, East Liberty, Friendship, Garfield, Glen Hazel, Greenfield, Hazelwood, Hill District, Highland Park, Homewood, Lawrenceville, Lincoln-Lemington, Morningside, Oakland, Point Breeze, Polish Hill, Regent Square, Shadyside, South Side, Squirrel Hill, Stanton Heights, Strip District & Swisshelm Park and the surrounding northern and southern Pittsburgh suburban areas.