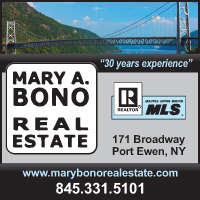 Mary Bono of Mary A. Bono Real Estate located at 171 Broadway in Port Ewen, NY is a realtor and licensed real estate broker located in Port Ewen that provides commercial and residential real estate services and real estate listings for their customers in Port Ewen, Kingston, the Town of Esopus and surrounding Northern Ulster County communities.
The real estate business is built on trust established at the local level, and that's why people have been calling Mary Bono Real Estate to list and sell their properties for over 30 years!
As an agent who's an expert in the Port Ewen, Rifton, Tillson, Kingston & Town of Esopus, NY area for over 36 years, Mary Bono Real Estate brings a wealth of knowledge and expertise about buying and selling real estate.
Remember It's not the same in every town and community, so you need someone you can trust for up-to-date information in that specific market. At Mary Bono Real Estate, they are eager to serve you - call today and learn why the agents at Mary Bono Real Estate in Port Ewen, NY are different.
Here are some of the things they can do for you:
Find Your Next Home - You need someone who knows this area inside and out! At Mary Bono Real Estate they will work with you to find the right home at the right price for you, including all the neighborhood amenities that matter - not to mention the essential criteria you have for your ideal home!
Selling a Home - When it's time to move, you need someone who will advertise your home, show to prospective buyers, negotiate the purchase contract, arrange financing, oversee the inspections, handle all necessary paperwork and supervise the closing. Mary Bono Real Estate will take care of everything you need, from start to close.
Consult on Home Selling Tactics - Oftentimes buyers don't visualize living in your home the way you do. At Mary Bono Real Estate they will make your home attractive to its ideal audience - which can help you get top dollar.
Things like staging the home, making repairs or minor improvements, or even simply painting the walls can be the difference between a home resting on the market and one that's sold fast.
Why list your home for 2 years? Try Mary Bono Real State for 6 months!
Mary A. Bono Real Estate takes pride in having the ability to offer it's customers a wide variety and range of listings - all unique and topical to the charm that is the Hudson Valley.
Whether you are seeking a little cottage in the woods, a contemporary on the Hudson River, the victorian in the village or the starter or retirement home - Mary Bono Real Estate will match you with the perfect home for your budget and price range.
More importantly, Mary A. Bono Real Estate in Port Ewen offers real estate consultation services, and will provide you with all the tips you will need to buy, or sell your home - with a professional end experienced real estate sales staff that is familiar with the Kingston and Hudson Valley area.
Please call or stop in today, and see why customers trust Mary A. Bono Real Estate in Port Ewen, NY with all their real estate requirements and needs.