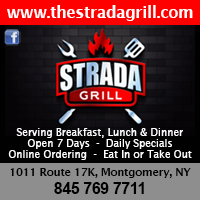 The Strada Grill located at 1011 Route 17K, Scotts Corners, in Montgomery, NY is a cafe and bistro serving breakfast & lunch 7 days a week with brunch on Sunday. The Strada Grill features breakfast sandwiches, breakfast platters and breakfast burritos to start your day off right. For lunch, Strada's has specialty sandwiches, wraps and fresh, crisp signature salads with all your favorite toppings.
Looking for some new breakfast and lunch alternatives in the local Montgomery, NY area?!
Well - look no further! The Strada Grill has great breakfast sandwiches and other great breakfast options sure to start your day off right! Always made fresh to order, the Strada Grill's breakfast options will keep you coming back for more - and don't forget their Sunday Brunch!
For lunch, the Strada Grill features the best specialty & traditional sandwiches, wraps and fresh, crisp salads sure to get you through your busy day. More importantly, the Strada Grill in Montgomery, NY has the best fries and side salads to compliment your freshly prepared sandwich or wrap, with seasonal soups and the tastiest mac & cheese in the area.
The Strada Grill is open 7 days, with daily specials and the best Sunday brunch in the Town of Montgomery area - stop in and feed yourself, today!
Like us on Facebook!
https://m.facebook.com/TheStradaGrill
Check us out on Instagram: