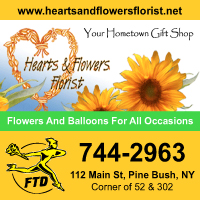 Hearts & Flowers Florist located at 112 Main Street in Pine Bush, NY is a locally owned and family operated florist in Pine Bush, NY that proudly features quality custom flowers, fresh cut flowers, seasonal floral arrangements, balloons, gifts and floral arrangements to their customers in Pine Bush, Wallkill, Walden, Walker Valley, Bullville, Circleville, Scotchtown, Walker Valley, Walden & surrounding area.
CONGRATULATIONS TO HEARTS & FLOWERS FLORIST AND GIFT SHOP IN PINE BUSH - VOTED BEST FLOWER SHOP 2021 TIMES HERALD-RECORD FIRST PLACE READERS CHOICE AWARD!
At Hearts & Flowers in Pine Bush, NY they offer a wide variety of fresh flowers and unique gifts for all occasions, and their primary mission and goal is to consistently exceed their customers expectations with quality service, value and professional, personal service.
Whatever the event, reason or occasion, flowers are always a thoughtful and wonderful choice, and add a unique significance and personal statement to whomever receives them regardless of the circumstances - happy or sad...
Hearts and Flowers Florist is committed to providing only the highest quality products backed by personal service that is friendly, fast and reliable.
More importanty, at Hearts & Flowers Florist in Pine Bush they always carry an extensive selection of fresh flowers & roses, green & blooming plants, dry & silk arrangements, fruit & gourmet baskets, home gift items and everything you need to make that special moment extra special - after all, they back everything they do with an unconditional 100% satisfaction guarantee.
Hearts & Flowers Florist & Gift Shop in Pine Bush, NY - locally owned & locally operated for over 30 years!
FRESH CUT FLOWERS - CUSTOM FLORAL ARRANGEMENTS - BALLOONS & GIFTS - FRUIT BASKETS - SILK ARRANGEMENTS - PRETTY CORSAGES & BOUTONNIERES - FLORAL DELIVERY SERVICE - HOLIDAY AND SEASONAL CUSTOM FLORAL ARRANGEMENTS - FRESH FRUIT & GOURMET BASKETS
Like us on Facebook!
https://www.facebook.com/pages/Hearts-n-Flowers-Florist/126856640687012
Check us out on Instagram: