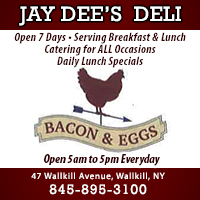 Jay Dee's Deli located at 47 Wallkill Avenue in Wallkill, NY is a deli in wallkill proudly serving breakfast and lunch 7 days a week, daily lunch specials, sandwiches & side salads and deli catering services to their customers in Wallkill, NY and the surrounding Town of Shawangunk area. Jay Dee's specializes in great breakfast and lunch sandwiches, and special orders are always welcome and promptly prepared.
Open 365 days a year, Jay Dee's Deli proudly features great, quality home cooked food with daily lunch specials sure to please any appetite or palate.
More importantly, Jay Dee's serves breakfast daily until 3:00pm for those who work on a different work schedule than the rest of us. It's all here, original sandwiches, fresh homemade salads and side dishes - everything at Jay Dee's Deli in Wallkill is made to order and served fresh daily.
Catering Service: Please consider Jay Dee's Deli for your next private party or catered event. Jay Dee's Deli offers catering services for any occasion to their customers in Wallkill, and they will personally meet with you to customize a menu that works for your specific event and budget!
JAY DEE'S DELI - OPEN 7 DAYS - SERVING BREAKFAST AND LUNCH CATERING FOR ANY & ALL OCCASIONS - DAILY LUNCH SPECIALS - BEST BREAKFAST SANDWICHES IN THE WALLKILL - SHAWANGUNK AREA!
Like us on Facebook!
https://www.facebook.com/pages/Jay-Dees-Deli/169557016409410