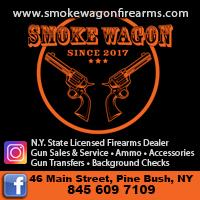 Smoke Wagon Firearms located at 46 Main Street in Pine Bush, NY is a NY State licensed gun dealer and sporting goods store that features quality hand guns, rifles, shotguns, ammunition, knives, optics, eye wear, targets, gun safes and gun cleaning supplies, parts & accessories to their customers in Pine Bush, Montgomery, Bullville, Scotchtown, Middletown and the surrounding Orange County area.
Smoke Wagon, LLC was established January of 2017 as a Federal and New York State Firearms Licensed Dealer.
At Smoke Wagon Firearms in Montgomery, their mission is to provide their customers with high quality firearms and sporting goods products at a fraction of the costs of their competitors - while providing a great buying and firearms shopping experience. Whether you are on a budget or looking for something special, let Smoke Wagon Firearms become your FFL today.
Whether you are looking for firearms for sport, competition, hunting or personal protection, Smoke Wagon Firearms has a wide selection of pistols, rifles, shotguns and all the optics and accessories that you will ever need to make your firearms and sporting goods shopping experience a good one.
Smoke Wagon provides background checks, gun transfers and guidance in attaining concealed carry permit applications to help you navigate the often tricky and confusing gun laws in NY State, and will personally consult with you regarding all of your firearm needs, concerns and questions in these turbulent times.
More importantly, because they are a locally owned family firearms dealer, they are able to pass on and extend low prices to their customers because of their low over head. Why go anywhere else?!
Smoke Wagon Firearms also has a wide selection of gun safes to keep your firearms safe and secure - and your peace of mind! Also, Smoke Wagon specializes in custom made guns, and special orders are always welcome!
Please consider Smoke Wagon Firerarms in Montgomery, NY for all your firearm and sporting goods needs - become a part of the Smoke Wagon family, today!
Like us on Facebook!