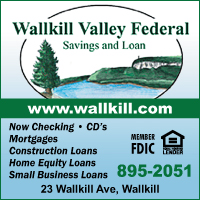 Wallkill Valley Federal Savings and Loan located at 23 Wallkill Ave. in Wallkill, NY is a full-service local community bank that features home equity loans, construction loans, small business loans, IRA's, CD's, mortgages, checking and savings accounts, lines of credit, and banking & financial services for their customers in the Wallkill - Town of Shawangunk and the surrounding Hudson Valley area.
The Wallkill Valley Federal Savings & Loan Association was organized in July of 1913. The stated goals of the Association at that time were to promote thrift and homeownership within the local community, and it sought to meet these goals by providing a safe place for local savings deposits and by prudently lending these deposits back into the community in the form of home mortgages.
Although many years have gone by since the Association was first chartered, and the financial services landscape has changed dramatically, Wallkill Valley Federal Savings and Loan still takes pride in meeting these traditional goals.
More importantly, their history demonstrates that the Association has a long and proud history of successfully meeting the financial needs of the local community. At Wallkill Valley Federal Savings and Loan, they will always strive to be a customer-oriented community bank and provide the ideal banking experience by adding services that make banking more convenient for their customers. ​
2013 marked Wallkill Valley Federal's 100th year helping our neighbors with their financial needs, and they were excited to have maintained and grown their presence over the last 100 years - and look forward to expanding and continuing prudent stewardship for the next 100 years.
Wallkill Office: 23 Wallkill Avenue, Wallkill, NY
Phone: 845-895-2051
Milton Office: 1880 Route 9W, Milton, NY
Phone: 845-795-6160
Highland Falls Office: 225 Main Street, Highland Falls, NY
Phone: 845-446-4711
Maybrook Office: 205 Homestead Avenue, Maybrook, NY
Phone: 845-636-4995
Walden Office: 12 Main Street, Walden, NY
Phone: 845-778-2171
Montgomery Office: 201 Ward Street, Montgomery, NY
Phone: 845-457-5101
Monroe Office: 412 State Route 17M, Monroe, NY
Phone: 845-783-2265
Otisville Office: 16 Sanitorium Avenue, Otisville, NY
Phone: 845-386-2577
​
WALLKILL VALLEY FEDERAL SAVINGS AND LOAN - BANKING - IRA's & CD's - SAVINGS ACCOUNTS - CHECKING ACCOUNTS - FINANCIAL SERVICES - MORTGAGES - LINES OF CREDIT - LOANS - INTERNET BANKING
Wallkill Valley Federal Savings and Loan. MEMBER FDIC. EQUAL HOUSING LENDER. NMSL#1790987
Like Us on Facebook! http:// https://www.facebook.com/WVFSL/
Follow Us on Instagram! https://www.instagram.com/wallkillvalleyfederal