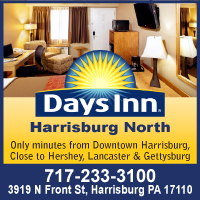 The Days Inn Harrisburg North hotel is a NEWLY RENOVATED HOTEL In the Pennsylvania State Capitol along the beautiful Susquehanna River. It is located just off Interstate 81, only minutes from Downtown Harrisburg with easy access to the Pennsylvania Farm Show Complex and Expo Center.
This family and pet friendly hotel is close to Hershey PA, Hershey Park, all Hershey Attractions, Lancaster's Pennsylvania Dutch Country, Gettysburg and Carlisle.
The Days Inn Harrisburg North hotel is the proud winner of Days Inns International's coveted Chairman's Award for Quality. This prestigious recognition was achieved for consistently exceeding the expectations of their guests.
Award-Winning AAA-Rated Hotel Located 2 Miles From Farm Show Building.
This Harrisburg, PA, hotel offers comfort and convenience in central PA for the vacationer or business traveler. Workout in the state-of-the-art fitness center.
Start each day of your stay with our Complimentary Continental Breakfast served in the Coffee Spot.
Accomodations
The Days Inn Harrisburg North hotel is a 115 Room three story hotel with guest elevator. Double and Executve King Rooms are available. Enjoy in-room amenities like free Wi-Fi Internet access, a work station and an ergonomic chair. Kitchenette and handicapped-accessible rooms are available at our hotel in Harrisburg, PA.
Guests can enjoy 3 free HBO channels, CNN, ESPN, have round the clock access to our state of the art fitness center, outdoor lifeguard supervised pool in season, business center with high-speed Internet access, continental breakfast and Wireless Hi-Speed Internet in rooms and public areas.

Standard rooms are spacious and attractively decorated, have 2 full size beds, remote control 25" color TV, hairdryers, irons and ironing boards, AM/FM clock radio, computer friendly telephones, and a table with 2 chairs.
Our executive king rooms feature a king size bed, extra large work station with ergonomic chairs and excellent lighting, remote control 25" color TV, hair dryers, irons and ironing boards, AM/FM clock radio, and computer friendly telephones.
Our newly introduced economical extended stay suites feature a kitchen with range top stove, full size refrigerator, microwave, sink, and cooking and dining accessories to serve four people. Choose a full size bed or two twin size beds. Perfect for stays of days, weeks or months.
The Days Inn Harrisburg North hotel has plenty of Free Parking. Their Pet Policy allow for service animals for guests with disabilities only.
GUEST ROOM AMENITIES
Complimentary Wireless Hi-Speed Internet (adapters available at front desk)
Computer data port telephones
Iron & Ironing Boards
Hairdryers
Alarm clock radios
25" Color TV with remote
3 Free HBO channels, CNN, and ESPN
Business Kings available with large work desk, task lighting and ergonomic chair
Rollaway Beds and Cribs available
FACILITIES & SERVICES
Guest Service Representatives -available 24 hours
Complimentary Continental Breakfast
Complimentary Business Center with high-speed Internet access
Complimentary Wireless Hi-Speed Internet in public areas (adapters available at the front desk)
24 hour Fitness Center
Self service Coin Operated Laundry Facility
Safe deposit boxes at front desk
ATTRACTIONS & LANDMARKS
Farm Show Complex 2 mi
Hershey Park/Hershey Attractions 15 mi
Hollywood Casino 16 mi
State Capitol Complex 3 mi.
Whitaker Center 4 mi
Susquehanna River .1mi
Ft. Hunter Mansion & Park 1.5mi
Senator's Baseball/City Island 4 mi .
Imax Theater 4 mi .
Pride of Susquehanna Ferry Boat 4 mi
Indian Echo Caverns 12 mi
Zoo America 15 mi
Penn National Raceway 16 mi
Gettysburg 40 mi
Lancaster Amish Country 40 mi
SPORTS & RECREATION
State of the Art Fitness Center on site
Golf 4 mi
Tennis 4 mi
Boating 5 mi
Fishing 2 mi
Jogging Trail w/ Stretch Stations .5 mi
Bowling 4 mi
Ice Skating 5 mi
Roller skating 4 mi
Racquet Ball 4 mi
"We pledge to always be the BEST VALUE in the region by providing deluxe accommodations and unsurpassed friendly service at a competitive price."
Visa, MasterCard, American Express, Diners Club, and Discover are welcome.