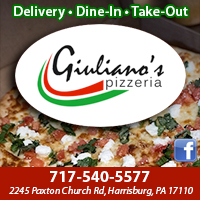 Searching for the Best Pizza and Pizza Delivery Restaurant in the Harrisburg, PA area? Giuliano's Pizzeria located 2245 Paxton Church Road, Harrisburg, PA 17110 is a Pizzeria and Italian Restaurant featuring the best pizza and Italian dinners in Harrisburg, Colonial Park, Linglestown, Paxtang, Paxtonia and surrounding areas - from Traditional Pizza, Specialty Pizza's, Gluten Free Pizza, Hot & Cold Subs, Pasta Dishes, Italian Dinners to Calzones and Stromboli, all served fresh and hot with the freshest & finest ingredients.
Giuliano's Pizzeria provides Fast and Dependable Pizza Delivery in Harrisburg and surrounding areas to your home, business or hotel. Giuliano's Pizzeria treats you like family because they are family owned and operated by the Finazzo family - and offer a casual family atmosphere well suited for you and your family to relax and enjoy the best pizza and Italian dinners in the Harrisburg, PA area. Enjoy a broad menu to please both children and adults. You may B.Y.O.B.!
Giuliano's Pizzeria is "Now serving Italian gelato, imported from Florence, Italy! Seven different flavors, including gluten free, dairy free and vegan options, there's something for everyone."
Giuliano's Pizzeria offers catering items for any occasion. If there's something you're looking for but do not see listed, just ask! Pizza party packages and pricing available upon request. They have a large dining room that can accommodate private parties, office parties and family gatherings. Let them cook for you!