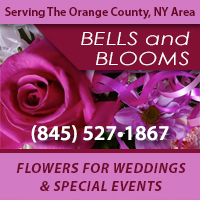 Bells and Blooms formerly the Montgomery Florist in Montgomery, NY specializes in flowers for weddings, ceremonies, special events, receptions, private parties and corporate & formal events for their customers in the greater Orange County, NY area. With over 30 years in the floral business, you can count on a beautiful floral presentation and arrangement​ for that special day and event.
Bells and Blooms floral service is an event based florist specializing in weddings, ceremonies, receptions, corporate functions, private parties and special events in Orange County, NY
Whatever the occasion, holiday or event, flowers are consistently a great choice - and always brighten up any room where and when they are displayed!
No matter the event or occasion, Steve and Ellyn at Bells and Blooms will sit down with you and make sure your flowers are fresh and beautiful for that special day and occasion.
Thirty years says a lot for any business, especially one as personal and intimate as flowers. If you have attended a wedding, private party, family reunion, graduation, corporate function, ceremony or reception in the Montgomery, NY/Orange County, NY area and were impressed by the floral arrangements, chances are the flowers were provided and arranged by Steve and Ellyn at Bells and Blooms formerly the Montgomery Florist.
Confused on how flowers should take a visual role in your wedding, reception, private party or special event? Steve and Ellyn will personally meet and consult with you, and answer all of your questions - and always within a budget that works for you.
Call Bells and Blooms for your next wedding, reception, ceremony or special event!
Like us on Facebook!
https://www.facebook.com/floristblooms/
Stephen Morgan - Licensed Real Estate Broker, Curasi Realty:
Curasi Realty, Inc. is a trusted brokerage providing a great real estate experience to buyers and sellers since 1999.
Stephen Morgan a licensed real estate broker at Curasi Realty is your neighborhood expert, and is focused with providing you with the best results and services in the industry.
Steve will listen carefully to understand your real estate needs and work hard to create solutions that make sense for you - whether you are new to the market or an experienced seller or buyer, Stephen Morgan and Curasi Realty have the expertise, proven track record, and resources to help you achieve your real estate goals in Montgomery, Walden, Pine Bush, Wallkill, Bullville, Maybrook, Scotchtown, Hamptonburgh and the surrounding area.
More importantly, they have extensive knowledge in the Mid-Hudson Valley and can help you find the right home for you or the right buyer for your property.
Steve & Curasi Realty specialize in residential, commercial, land, new construction, condos, townhouses, investment, residential/commercial leases, multi-families, foreclosures, short sales, and they are HUD Certified.
Call Steve Morgan today at Curasi Realty in Montgomery, NY for all of your real estated needs!
https://www.facebook.com/rockinrealtorsteve/?modal=admin_todo_tour