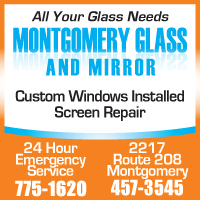 Montgomery Glass located at 2217 Route 208 in Montgomery, NY is a full service glass shop, glass installation and glass & mirror repair shop serving Newburgh, Montgomery, Walden, Maybrook and the local Orange County, NY area. Montgomery Glass specializes in all phases of glass repair, glass installation, auto glass repair and installation and quality custom window installation services.
Any family with active kids - or those who live in an active neighborhood (mostly with active kids!) - knows the perils of the mysterious rock, ball, or spherical object crashing through the window.
How about the accidental bowling ball dropped on the custom glass table, or the dog (being chased by the active kids) running through the newly screened porch door?
Or the bathroom mirror that is suddenly found cracked... Sound familiar? Well, should your household suffer from any of these unpredictable and often accidental misfortunes, call Montgomery Glass & Mirror in Montgomery, NY for your quick fix glass solution.
Because at Montgomery Glass, they've been cleaning up and fixing active kids' and husbands accidental messes for over 21 years!
Whether it's complete insulated window replacement(s), custom shower enclosures, screens, table tops, mirrors, patio doors, or storm windows Montgomery Glass & Mirror has the glass solution for your every need!
Montgomery Glass & Mirror provides full service custom glass services, glass repair, replacement windows, glass store fronts, glass shower enclosuresand custom glass tabletops for their customers in Newburgh, Walden, Montgomery, Maybrook, Campbell Hall, Rock Tavern, the Town of Hamptonburgh, town of Montgomery and surrounding Orange County communities.
More importantly, Montgomery Glass & Mirror specializes in custom glass work and are fully licensed and insured for any job.
No job is too big or too small - call for a free estimate from our on site field representative today!
CUSTOM GLASS REPAIR & SERVICE - REPLACEMENT WINDOWS - GLASS STORE FRONTS - CUSTOM GLASS SHOWER DOORS - AUTO GLASS REPLACEMENT - GLASS PATIO DOORS, TABLE TOPS & STORM WINDOWS
Like Us on facebook!
https://www.facebook.com/Montgomery-Glass-and-Mirror-161348818430/