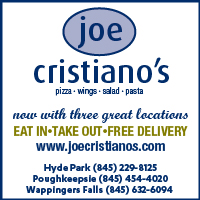 Joe Cristiano's Pizza located at 1289 Route 9G has the fastest pizza delivery in Wappingers Falls, and features the best pizza, gourmet, specialty and traditional pizza, hot & cold subs, wraps & wings, fresh crisp salads and hot Italian dinners in to their customers Wappingers Falls, Poughkeepsie, LaGrange, Fishkill and the surrounding local area. Joe Cristiano's features fast & reliable pizza delivery service.
At Joe Cristiano's Pizza they understand that you have many choices for feeding your family and friends - that's why they feel it is their responsibility to ensure that you receive a premium pizza, made from premium ingredients with premium service.
More importantly, at Joe Cristiano's Pizza they will always work hard to do their best to become and remain your pizzeria of choice in Wappingers Falls, Poughkeepsie, LaGrange and Fishkill.
Joe Cristiano's Pizza in Wappingers Falls features a broad menu to please both children and adults - from simple classic appetizers, to full entree's and tasty home made desserts.
The chefs at Joe Cristiano's Pizza use only the freshest, high quality ingredients, and take great pride in serving to you the best pizza and hot Italian dinners in the Wappingers Falls, NY area.
FASTEST PIZZA DELIVERY IN WAPPINGERS FALLS - GOURMET AND TRADITIONAL PIZZA - HOT ITALIAN DINNERS - FRESH SALADS - HOT & COLD SUBS - WRAPS -WINGS - CATERING FOR ALL OCCASIONS - DAILY SPECIALS
Like us on Facebook! https://www.facebook.com/joecristianos/
4 Convient Locations to Serve You!
Hyde Park - 1225 Route 9G, 845 229 8125
Poughkeepsie - 518 Salt Point Tpke, 845 454 4020
Wappingers Falls - 1289 Route 9, 845 632 6094
Poughkeepsie/LaGrange - 266 Titusville Road, 845 204 9922