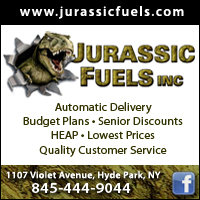 Jurassic Fuels, Inc. located at 1107 Violet Avenue in Hyde Park, NY is a family owned & operated home heating oil company delivering home heating oil to their customers in Hyde Park, Staatsburg, Pleasant Valley, Wappingers Falls and the Poughkeepsie, NY area. Jurassic Fuels offers automatic delivery, easy budget plans, senior citizen discounts and good ol' fashion quality customer service.
Jurassic Fuels is a fuel oil provider that is truly and solely in the business to provide each and every customer with all the facts about the heating oil industry, and the very best pricing of fuel oil.
The main objective at Jurassic Fuels, Inc. is to become the most customer friendly heating oil company in the Hudson Valley, and they strive to be the lowest priced company with the most helpful, friendly and professional personnel in the home heating oil business. More importantly, they can also refer you to an excellent service company that operates in your local area.
At Jurassic Fuels they pledge to give you an honest answer while never soliciting business. and they harbor a strong desire to educate their heating oil customers about the industry itself - always doing their best to explain what is fact and what is fiction when it concerns anything within the home heating oil industry.
Also, you can feel confident knowing that Jurassic Fuels in Hyde Park continuously strives to offer their customers the lowest price available each and every day. It's understood that almost every company states this, but you will come to find their declaration is more than just lip service - but fact!
Everyone appreciates loyalty and you should now that Jurassic Fuels is owned and operated by loyal people who understand that loyalty is a two way street. So what are you waiting for? Call them today!
At Jurassic Fuels, automatic delivery customers receive a three cent discount and there are no contractual obligations. More importantly, you can stop automatic delivery at any time with no cost to you. Seniors (65+) receive a two cent discount and it can be combined with the automatic discount for a five cent total discount per gallon.
Jurassic Fuels is a home heating oil delivery company providing quality customer service to their local residential & commercial heating oil customers in Hyde Park, Staatsburg, Pleasant Valley, Millbrook, Salt Point, Verbank, Red Hook, Rhinebeck, Wappingers Falls, Poughkeepsie, LaGrange, Hopewell Junction and the surrounding Dutchess County, NY area.
Like Us on facebook! https://www.facebook.com/Jurassicfuelsinc/
HOME HEATING OIL DELIVERY - HEATING OIL BUDGET PLANS - LOWEST HEATING OIL PRICES - HEATING OIL SENIOR DISCOUNTS - HEAP