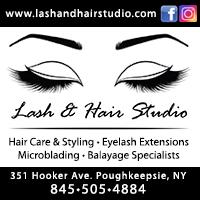 The Lash & Hair Studio located at 351 Hooker Avenue in the town of Poughkeepsie, NY is a hair salon and eye lash studio specializing in a wide variety of beauty services sure to meet your beauty needs. From full service hair care & styling, to micro blading, eye lash extensions, hair extensions, balayage and color correcting - the Lash & Hair Studio will help you achieve your unique & specific beauty look.
Lash & Hair Studio offers a variety of beauty services designed to help you take control of your specific beauty needs. The Lash & Hair Studio specializes in microblading, eyelash extensions and balayage/ foilayage hair coloring techniques, offering the best in personal beauty services & techniques to their customers in Poughkeepsie, LaGrange, Hyde Park and the surrounding area.
Full Service Hair & Beauty Salon - The Lash & Hair Studio in Poughkeepsie features all aspects of hair care and hair styling, from precise hair cutting & styling - to blowouts, highlights, corrective color treatments, root touch ups, custom hair styling and formal updo's.
The Lash & Hair Studio features quality micro blading services in Poughkeepsie and Wappingers Falls that help emphasize the specific contours of your face.
For the best micro blading services in the Poughkeepsie area, call the Lash & Hair Studio, today!
The Lash & Hair Studio also specializes in curly hair deva cuts for getting the most out of your curl, and I-Link Extensions - the safest and most gentle application of hair extension services available in the business.
More importantly, the Lash & Hair Studio offers personal beauty consultation services to help you achieve and maintain that distinct beauty look that's unique to you! Call for an appointment today!
To book an appointment or view their menu of prices and services, click on the square site link provided.
​https://square.site/book/5R8CF94QCF0FK/lash-hair-studio-poughkeepsie-ny
Check us out on Instagram!