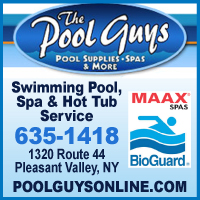 The Pool Guys Pools & Spas located at 1320 Route 44 in Pleasant Valley, NY is a full service pool and spa store that offers pool & spa sales, service & repair, pool and spa supplies, water testing, pool cleaning, seasonal openings & closings, & liner replacement & pool and spa repair services to their customers in Pleasant Valley, Poughkeepsie, Millbrook, LaGrange, Hyde Park, and surrounding area.
The Pool Guys has had a long history of quality customer service and excellence for Pools and Spas in the Poughkeepsie, Pleasant Valley, LaGrange, Hyde Park, Millbrook and the greater Hudson Valley area for many, many years.
As a family owned and operated pool and hot tub business in the local Lagrangeville and Pleasant Valley, NY area, they have serviced literally thousands of swimming pools and hot tubs in the Hudson Valley area - and their well trained staff is sure to answer all your questions and can help schedule an onsite service appointment that is convenient for you.
More importantly, The Pool Guys have established a solid reputation in the community as the "one stop" pool shop, handling everything from pool and spa service - to sales and installation.
Their primary mission is to be the pool and hot tub leader in the Hudson Valley community; known for professional service, quality products, a courteous & knowledgeable staff and outstanding customer care.
The Pools Guys features only the highest quality pool and spa products at the best prices - with 2 convenient locations to serve all your pool & spa shopping needs.
The Pool Guys Pools & Spas in Pleasant Valley and LaGrange always has a knowledgeable and friendly staff on hand to assist you in all of your pool & spa questions.
Stop in today and see why The Pool Guys is your one stop pool and spa shopping destination in the Hudson Valley. The Pool Guys also offer year round service on all hot tub and swimming pool makes and models, call them today!
1320 Route 44 Pleasant Valley, NY - 845 635 1418
1477 Route 55 LaGrangeville, NY - 845 592 2873
Like us on Facebook!