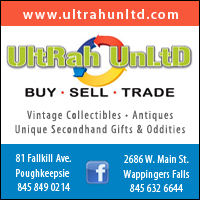 UltRah UnLtd (Ultrah Unlimited) located at 2686 West Main Street in Wappingers Falls, NY is an antiques and collectibles store featuring classic, vintage second hand antiques, electronics, sports memorabilia, lap tops, flat screens, Apple products and gaming counsels & games to their loyal customers in Wappingers Falls and surrounding Dutchess County, NY Communities.
The number one priority at Ultrah Unltd in Wappingers Falls is to specifically help you sell your unwanted items - and because of their experience and expertise in these matters, they have a variety of efficient ways to accomplish this goal for you.
Depending on your personal situation, they can list it on Ebay, sell it locally on Craigslist, sell it in their 2 stores, or even try to trade it for something else you may want or need. What could be easier?! You drop it off, and they sell it for you...
Many people don't understand how to use Ebay effectively when it comes to selling items, at Ultrah Unlimited they have been selling on Ebay since 2000, so they know the ropes and how the game is played - and will look out for your best interests.
More importantly, there has been a problem recently with people "scamming" on Craigslist. At Ultrah UnLtd they will personally handle all the headaches associated with selling your items; taking care of the listing, negotiating, selling, shipping, and collection of funds. All you have to do is sit back, wait, and let us do all the work - and when its all said and done, come pick up your money!
In order to serve their customers in the best possible and most efficient way, the folks at Ultrah Unlimited in Wappingers Falls recommend making an appointment in advance so that they can spend time with you, and do some research on your item.
In this meeting, they will also go over the different options available to sell or trade your item, and give you a general idea of what the market value is of your item. Now that's how it should be done, with quality customer service at a fair market price!
Like Us on facebook! Poughkeepsie Location:
https://www.facebook.com/ultrahunltd2/
Like Us on facebook! Wappingers Falls Location: