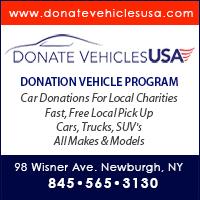 The Donation Vehicle Program located at 98 Wisner Avenue in Newburgh, NY is a licensed donation vehicle business that accepts cars, trucks and SUV's for donation that is funneled to local charities. Car & vehicle donation programs are often a major source of revenue for most major local charities. Donate that old car that's been sitting in your yard or garage and receive a sizable tax deduction!
The Donation Vehicle Program accepts donation vehicles from Newburgh, New Windsor, Vails Gate, Cornwall, Marlboro, Plattekill, Wallkill, the Town of Shawangunk, Middletown, Goshen, Montgomery, Walden, Beacon, Wappinger Falls, Hopewell Junction, Poughkeepsie and surrounding Hudson Valley, NY communities.
Do you own an unwanted vehicle? Or maybe a boat that just sits in your driveway and never gets used? Did you know that you can donate it to charity and get a federal tax deduction?
In 2011, American charities received 298.3 billion dollars in donations and charitable giving, and one of the popular revenue streams for charitable organizations is vehicle donation programs!
Every year, hundreds of thousands of vehicles are itemized as charitable donations to local charities. Here are several benefits involved in the auto donation process:
The money stays in the community - In most cases, the proceeds that the charity receives from the sale or use of the vehicle are used to directly assist people in need within the community. Also, rather than selling the cars at auction, some charities will refurbish them and give them to needy families in the community.

You don't have to go through the hassle of selling your used car - When you donate to a reputable organization, they will make the donation process virtually hassle-free. In most cases, you simply contact the charity and schedule a pick-up time to remove your donated vehicle.

The donor gets a tax break - When you turn in your vehicle to the charity, they will provide you with the necessary tax forms. Depending on your income tax bracket, choosing to donate rather than sell your unwanted automobile can be a good idea.
Even if the car is wrecked or rusted out, it still has an intrinsic value. For cars that are severely damaged, the functioning auto parts will be stripped out and sold off. The rest of the vehicle is usually sold to a scrap metal wholesaler who can recycle the steel.
More importantly, getting rid of an unwanted automobile or other vehicle is usually a win-win situation - not only do you to free up some extra garage or driveway space, but you are also putting some extra money in your pocket. And, if you decide to donate to charity, you get the satisfaction of helping others along the way!
So what are you waiting for?! Call the car donating professionals today at the Donation Vehicle Program in Newburgh, NY today!