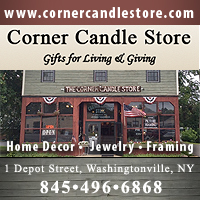 The Corner Candle Store located at 1 Depot Street in the Village of Washingtonville, features scented candles, home decor, home gifts, jewelry, baby gifts & toys and quality custom picture framing services to their customers in Washingtonville, the Town of Blooming Grove, Campbell Hall, Town of Hamptonburg, Rock Tavern and surrounding Washingtonville & Orange County, NY communities.
More than just a candle store! Something magical happens when you walk through the doors of the Corner Candle Store - whether it's the soft scents, the size of the indoor open barn or the abundance of beautiful gifts, you'll feel at once both at home and relaxed.
The Corner Candle Store has that unique special something for everybody, and their eclectic style enables them to balance the blend of vintage contemporary looks - making the Corner Candle Store in Washingtonville the perfect one-stop-shop for all your last minute gift needs.
So, whether you are buying a gift for that special person or occassion, or simply purchasing a item to make you and your home happy, The Corner Candle Store has been a reliable and favorite shopping destination in Orange County, NY for more than three decades - and is always worth the trip!
More importantly, the Corner Candle Store in Washingtonville, NY proudly features gift products from sources located all around the world, so everything they select must meet their high standards of quality and design, but also at affordable prices.
The Corner Candle Store in Washingtonville, stop in... it's always worth it!
THE CORNER CANDLE STORE ~ HOME DECOR ~ CUSTOM FRAMING JEWELRY ~ UNIQUE GIFTS FOR ALL OCCASIONS ~ OPEN 7 DAYS
Like Us on facebook!
https://www.facebook.com/pages/The-Corner-Candle-Store/139655492774772