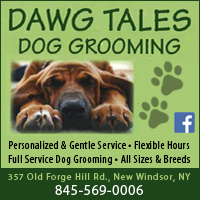 Dawg Tales Dog Grooming located at 357 Old Forge Hill Road in New Windsor, NY is a dog groomer in New Windsor that provides the best and most gentle dog grooming services to their customers in the Newburgh, New Windsor, Cornwall, Washingtonville, the Town of Woodbury and surrounding local area. Dawg Tales Dog Grooming also provides dog & cat flea baths, dog nail clipping and dog ear cleaning.
Dawg Tales Dog Grooming is a full service dog & cat grooming business serving the New Windsor, Newburgh, Cornwall, Cornwall on Hudson, Vails Gate, Highland Mills, Central Valley, Washingtonville, Salisbury Mills, Town of Woodbury and surrounding Orange County, NY communities.
Dogs and dog owners in the New Windsor area trust Dawg Tales Dog Grooming as their favorite family dog grooming center, because at Dawg Tales they treat every dog as if it where their own - and all of their dog shampooing & conditioning products have been tried and tested by them to insure quality control and reliability.
More importantly, Dawg Tales Dog Grooming in New Windsor, NY features flexible grooming hours that conveniently work around your schedule; to make your life a little less stressfull - and you can't beat the original sense of humor and classic "one liners" that are generously provided & dished out at no additional cost!.
All Natural Dog Treats and Cookies:
Dawg Tales Dog Grooming in New Windsor is now featuring their all natural dog treats. Stop in for their "All Natural" treats and cookies that change by the season -They also have different hair and fur care products to keep up with your dog's fur in between grooming sessions.
DOG GROOMING IN NEW WINDSOR, NY ALL SIZES AND ALL BREEDS DOG FLEA BATHS - DOG NAIL CLIPPING - DOG EAR CLEANING - ALL NATURAL DOG TREATS FOR EVERY EVENT & SEASON - CUSTOM TREATS
Like us on Facebook!