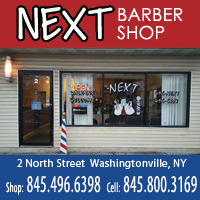 Next Barber Shop located at 2 North Street in Washingtonville, NY is a men's barber shop that specializes in men and boys haircuts and men's hair cutting, styling and mustache & beard trimming in all the latest styles and trends. Next Men's Hair cutting & Barber Shop specializes in men's hair cutting and styling for proms, weddings, photos and family events. Next Barber Shop will make your man & young men look great!
Come and relax with the guys and appreciate the finest in men's traditional barber shop haircutting; featuring tapers, fades, military cuts, ceasar cuts, bald cuts, afros and mohawks. At Next Barber Shop owner/operator "Sir" does it all!
Treat yourself to a hot towel shave or hot towel facial and get the perfect haircut, or mustache and beard trim while you relax to a movie or sporting event - or just sit around and enjoy the company and conversation with the guys. This barber shop is unique and classic!
More importantly, Next Barber Shop in Washingtonville, NY provides effective dandruff and hair & scalp treatments - and should definitely be your last stop to tighten up before a prom, wedding, business function or family event to tighten up your look so you can look your best...
NEXT!