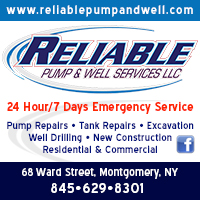 Reliable Pump & Well Services located at 68 Ward Street in Montgomery, NY provides well pump repair & installation services, water tank installation, water filter & water line services, excavation and residential & commercial well drilling services in Washingtonville, the Town of Blooming Grove and the surrounding Orange County, NY area. 24 hour/7 day emergency service always available.
If you've been experiencing a decrease in water pressure, dirty water, or an unusually high electric bill, these could be indicators of a well pump problem or issue.
Well pumps and water pressure tanks need to be regularly serviced in order for them to work properly. When carefully maintained, well pressure tanks can last decades - without regular maintenance, though, the bladder in your well tank has the potential to burst if there's a sudden pressure change.
Good indicators that your system is in need of a repair include low water pressure, no water flow, and a pump that seems to be constantly running (also called short cycling).
More importantly, the experts at Reliable Pump & Well Services in Montgomery, NY will professionally diagnose the (your) symptoms, and quickly determine whether your existing well pump and/or water pressure tanks are at fault - and whether they need to be replaced or repaired.
At Reliable Pump & Well Services in Orange County, your water system delivery concerns are always in good hands!
Water Pump Testing - At Reliable Pump & Well Services, their water pump experts can perform routine water pump testing services to determine if your system has started to lose its efficiency.
With their accurate and professional pump testing services, you'll get accurate and detailed information on your well's performance, its capacity, how large its zone influence is, and the aquifer's ability to store and transport water - among other important statistics.
This will help determine how efficient your well pump is - and if they discover any issues or concerns, the professionals at Reliable Pump & Well Services will go over all of your options with you; to ensure your well system is reliable and effective for many, many years.
Well Drilling & Site Location - The first step in any well drilling process is to determining the best place to drill the well, so as to provide the best results. Determining the location of previous wells, examining city records, and other scientific analytical methods are generally used to find a good spot to begin.
The well drilling experts at Reliable Pump & Well Drilling are extremely knowledgeable when it comes to this type of work, so you can feel comfortable knowing that they will find the best location to drill your well.
Drilling a well requires specialized equipment and professional experience. Reliable Pump & Well Services in Montgomery, NY offers you both of these critical criteria from many, many years of experience - they have the tools to drill wells at various depths, and their experienced team knows how to get the job done right quickly and efficiently.
Call the well drilling experts at Reliable Pump & Well Drilling today for all your well drilling questions and concerns!
Pressure Tanks - pressure tanks deliver a strong flow of water throughout your home. At Reliable Well and Pump Services, they provide a variety of expert pressure tank service options - including the installation and repair of well pressure tanks.
RELIABLE FULL SERVICE AND INSTALLATION - From well drilling site location and well drilling services, to water pressure tank sales & installation services, Reliable Pump & Well Services has got you covered!
WATER WELL PUMP REPAIRS - WATER TANK REPAIRS - WELL DRILLING - 24 HOUR EMERGENCY SERVICE - PRESSURE TANKS - EXCAVATING SVCES
RESIDENTIAL & COMMERCIAL WELL DRILLING CONTRACTORS