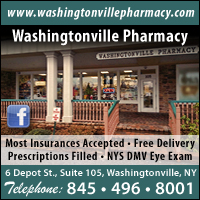 The Washingtonville Pharmacy located at 6 Depot Street in the Village of Washingtonville, NY is a pharmacy in Washingtonville that features quality home health care products, medical supplies, vitamins & nutritional supplements, custom compounding services and free local delivery services to their customers in Washingtonville, Campbell Hall, Blooming Grove, Maybrook, and surrounding local communities.
Family owned and operated, the Washingtonville Pharmacy proudly features free delivery, prescriptions filled & refilled promptly, DMV eye exams and QR barcoding on all prescriptions - where you can scan the QR code using a smartphone to obtain additional information about your prescription.
Also, for your added convenience, you can now even refill your active prescriptions online!
The Washingtonville Pharmacy is an independently owned and operated pharmacy committed to providing their customers with faster, more efficient customer service - while maintaining quality customer care. It is these diverse services that allow the Washingtonville Pharmacy to provide all the necessary products & services that their clients require based on their individual & personal health needs.
More importantly, at the Washingtonville Pharmacy most major insurance plans are accepted, and they have just about everything else for your family's health care needs and general health maintenance - and they offer the convenience of a wide variety and selection of over-the-counter products.
Why go anywhere else?!
CARING BEYOND PRESCRIPTIONS ~ MOST INSURANCES ACCEPTED ~ VITAMINS, DIET and NUTRITION ~ FREE DELIVERY ~ BEAUTY PRODUCTS
Like us on facebook!