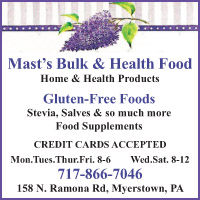 Mast's Bulk and Health Food Store is your one stop shop in Myerstown, and Lebanon PA for all your gluten free foods, vitamins, minerals, herbs and food supplements.
It's virtually impossible to keep up with today's deluge of vitamins, minerals, supplements and other nutritional products. They all promise to improve your health and/or your quality of life in some way, but their claims are difficult to research and follow. That's why we're here. Not only do we offer the highest quality in nutritional products, but we also offer a team of experienced, knowledgeable nutritional experts eager to help you make informed, healthful choices with your goals and best interests as their top priority.
We are constantly changing and updating our items & site, so check back often. And if you are looking for something special, we just might have it, but it is not yet on our website. So please feel free to contact us. We will get back to you as soon as possible.
Remember, we are not Doctors, and any suggestions are only recommendations from testimonials or personal experience.