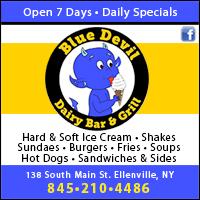 The Blue Devil Dairy Bar & Grill located at 138 South Main Street in Ellenville, NY is an ice cream stand, take out restaurant & cafe serving hard & soft ice cream, sundaes, shakes, burgers, hot dogs, fries, wings, grilled sandwiches and other classic favorites sure to please your appetite and wallet. Open 7 days a week, the Blue Devil Dairy Bar is perfect for family night out or after sporting events. Bring the team!
THE BLUE DEVIL DAIRY BAR & GRILL IS NOW OFFICIALLY OPEN!
The Blue Devil Dairy Bar is your local "go to" breakfast, lunch and early dinner option in Ellenville, featuring the best breakfast sandwiches and lunch specials in Ellenville. Whatever the time of day, and whatever your craving - it's all here at the Blue Devil Dairy Bar & Grill in Ellenville.
Whether its a weekend family lunch date, or early morning breakfast sandwich before your family chores or kids sporting events, the Blue Devil Dairy Bar & Grill will get you fueled up and quickly on your way with the best in fast food favorites prepared & served hot and fresh daily.
Sports weekends with the kids can be crazy. Win or lose, the Blue Devil Dairy Bar & Grill will bring a smile to the entire team! Please consider the Blue Devil for your next team rally or family get together - they are locally owned and operated and share in your team spirit!
In a hurry to get on the road or to your next family or sporting event? The Blue Devil Dairy Bar in Ellenville specializes in call in take out & online orders to go, and will work hard to accommodate and prepare your order quickly and efficiently with the best food at the best price.
Check Us Out on Instagram!
https://www.instagram.com/bluedevil_dbg/
Like Us on Facebook!