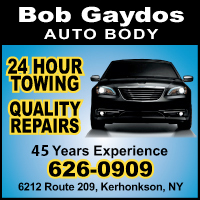 Bob Gaydos Auto Body located at 6212 Route 209 in Kerhonkson, NY is an auto body shop in Kerhonkson that specializes in major collision repairs and unibody frame repair. At Bob Gaydos Auto Body they provide expert body and fender repairs to all foreign and domestic cars and trucks in the Town of Wawarsing, Town of Rochester, NY, Ellenville, NY and surrounding communities.
BOB GAYDO'S AUTO BODY CELEBRATING 50 YEARS OF QUALITY AUTO BODY SERVICE!
Bob Gaydos Auto Body of Kerhonkson, NY offers a computerized estimating system for all collision repair quotes, as well as factory paint matching for that perfect new car finish.
More importantly, they can handle all auto body & collision repairs; from major to minor, and offer on site welding equipment to mend your car when needed.
For your convenience, Bob Gaydos Auto Body of Kerhonkson, NY features professional towing services - with a 24 hour wrecker with wheel lift, or flat bed towing service anywhere in NY State.
Bob Gaydos Auto Body works with all insurance companies and communicates with them while fixing your car to make your life easier.
Gaydos Auto Body is a direct auto body repair company with most insurance agencies should a rental car be needed, so they can provide arrangements for securing a temporary rental car.
Contact Bob Gaydos Auto Body today at 845-626-0909 to receive a free quote on your auto body or collision repair.
Bob Gaydos Auto Body has been faithfully providing quality auto body and collision repair work to their customers since 1973 - that's 45 years of quality body work and collision service!
Providing Comprehensive Auto Body and Collision Services for 45 Years - why take your car, truck or vehicle anywhere else?!
Like us on Facebook!
https://www.facebook.com/Bob-Gaydos-Auto-Body-Inc-170020833008118/