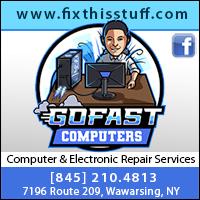 GoFast Computers in Wawarsing, NY located at 7196 Route 209 is a full service computer repair center & electronics repair center serving Ellenville, Kerhonkson, Accord the and greater town of Wawarsing, NY, town of Rochester, NY, and town of Marbletown, NY area. GoFast Computers repairs laptops, LED & plasma tv's, Xbox, Playstation & PSP, Iphone & Ipads - and repairs on most smart phones & devices.
GoFast Computer and Electronic Repair in Wawarsing, NY has been faithfully helping folks solve their PC problems and nightmares for over 12 years.
At GoFast Computer Repairs - Computer repairs and electronic troubleshooting is their passion - and they enthusiastically service and repair a wide range of electronics & computer brands and products.
More importantly, the primary goal at GoFast Computer & Electronic Repairs is simple and to the point - to provide their customers with an affordable and practical repair solution - anything from hardware to software! Why go anywhers else!
GoFast Computer & Electronic Repairs is the "go-to" computer and electronic repair shop in the Ellenville, NY., Kerhonkson - Accord, and Town of Rochester, NY area, and they pride themselves in working with all of their customers by providing quality and professional service - often with a quick and reasonable repair turn around time.
Like Us on facebook!
https://www.facebook.com/pages/GoFast-Computers/134064000016619
Go Fast Computers Website: http://www.gofastcomputers.com
Fix This Stuff Website: http://www.fixthisstuff.com
Computer Repairs: Repairs on all Desktop and Laptop Computer Problems - Both PC and Mac.
Electronic Repairs: Repairs on a wide rage of Electronics, TV's, Iphones, Ipads and Charging Ports.
Game Console Repairs: Playstation, Xbox, Nintendo,HDMI Ports and Hard Drives.
Other Services: Website Design & Hosting, Vinyl Lettering, 3D Printing, Security and Camera Systems.
Call GoFast Computer & Electronic Repairs today for all your computer and electronic repairs & service in the Ellenville, Kerhonkson, Accord, Wawarsing, Woodebourne and Liberty area - THEY CAN HELP!