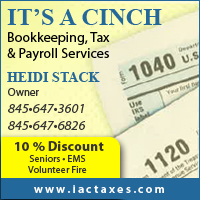 It's A Cinch Bookkeping and Tax Service located 172 Canal Street in Ellenville, NY provides year round tax return preparation services; business and local corporate tax preparation services, individual tax preparation services, accounting, bookkeeping services and direct deposit electronic filing services to their customers in Ellenville, Accord, Kerhonkson and surrounding area.
Heidi Stack owner/operator of It's A Cinch Bookkeeping and Tax Service in Ellenville, NY has been faithfully providing professional income tax, payroll and bookeeping services to her customers in the Ellenville, Kerhonkson, Accord, Town of Rochester and surrounding Town of Wawarsing communities for over 29 years.
At It's A Cinch Tax Service, Heidi Stack will personally consult with you regarding all of your income tax questions and concerns, and will take the pieces of an often confusing tax code puzzle and put them together so they all fit neatly in the right place.
It's A Cinch Bookkeeping & Tax Service in Ellenville is your one stop place for accounting, bookkeeping and tax prep peace of mind - Heidi can help! Please call or stop in today, appointments are preferred.
It's A Cinch Bookkeeping and Tax Service proudly offers a 10% discount to all Senior Citizens, Volunteer Fire and EMS workers, and is a member of the Better Business Bureau.
Like us on Facebook!