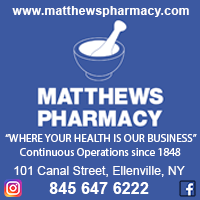 Matthews Pharmacy in Ellenville, NY is a full service pharmacy that serves the Ellenville, Kerhonkson, Accord, Woodbourne and the greater Town of Wawarsing & Town of Rochester, NY area. Matthews Pharmacy is family owned & operated with a full time pharmacists always on staff. Matthews Pharmacy is open 6 days a week, featuring a full line of vitamins and health supplements.
Matthews Pharmacy located at 101 Canal Street in Ellenville, NY is a local community oriented full service pharmacy serving the general health needs of the families in Ellenville since 1858 - this is truly a family owned community pharmacy.
Everyone in the Ellenville, NY, Town of Wawarsing, NY and surrounding area knows and trusts Matthews Pharmacy with all of their prescriptions and pharmacy related needs and services.
Matthews Pharmacy is more than just a pharmacy in Ellenville - Matthews Pharmacy is an anchor in the business and social community, a meeting place where you will always run into someone you know for a quick "hello" or a friendly conversation to catch up with the neighbors.
As well as filling your prescriptions promptly, Matthews Pharmacy has everything for your family's general health care needs - there's a little bit of everything for that something you might need on every shelf in their store.
More importantly, at Matthews Pharmacy you can feel confident in knowing that you will be treated like family, because Matthews Pharmacy is family owned and operated - so customer service is their number one priority.
Like Us on facebook!
https://www.facebook.com/MatthewsPharmacyNY/
Check us out on Instagram!
https://www.instagram.com/accounts/login/?next=/explore/locations/418771115/matthews-pharmacy/