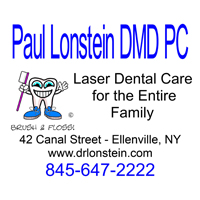 Paul Lonstein, DMD, PC dental care and family dentistry located at 42 Canal Street in Ellenville, NY is a dentist and family dental practice in Ellenville providing quality dental care and oral hygiene consultation to their dental patients in Ellenville, Cragsmoor, Wurtsboro, Accord, Kerhonkson and the surrounding Town of Wawarsing, NY area. Paul Lonstein Dental Care specializes in painless laser dental & gum care.
For over 22 years. Dr. Lonstein and his staff proudly feature all aspects of family dental care, from whitening & cosmetic dentistry, fillings, cleaning, laser gum treatments and needle free fillings - to promoting and educating his patients in consistent oral health and healthy dental hygiene.
Maintaining good oral hygiene is one of the most important things you can do for your teeth and gums.
Healthy teeth not only enable you to look and feel good, they make it possible to eat and speak properly. Good oral health is important to your overall well-being. Daily preventive care, including proper brushing and flossing, will help stop problems before they develop.
Remember, the first thing people see when they first meet and greet you is your smile. Your over all body health and well being starts from your mouth - because everything must pass through your body from there; a healthy and regular oral hygiene regiment with consistent brushing & flossing has typically and statistically led to a healthier, more confident and happier life.
Please call Dr. Lonstein DMD, PC today for all your personal and family dental needs.
Like Us on facebook! https://www.facebook.com/drlonstein