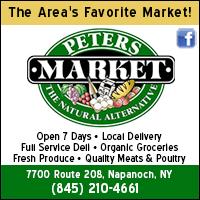 Peters Market located at 7700 Route 209 in Napanoch, NY is market & grocery store serving the Ellenville, Napanoch and greater Town of Wawarsing area for over 50 years. Peters market features fresh dairy & produce, quality meats & poultry, organic & natural foods, kosher food items, gluten free products, a full service deli and all the every day household & grocery items to keep your family happy & healthy.
Locally owned & operated, Peter's Market is a full service supermarket and natural food store that has everything you need under one local roof in the Napanoch, Ellenville and surrounding Town of Wawarsing, NY area.
Fully stocked, beautifully clean and organized, Peter's Market is the "go-to" family grocery store and supermarket - with a full service deli serving all your favorite sandwiches, soups, side salads and meals to go for when you just want to get home.
Looking to live a healthier lifestyle? Peter's Market has a complete selection of natural foods, organic foods, gluten free and many, many other natural healthy choices - as well as the freshest produce from local farms in the Hudson Valley.
Peter's Market also features fresh baked goods, a full cheese section, cold beer, international foods & spices, kosher foods, pre-made meals and all your favorite household brands and grocery products, at the best prices in the area. Why shop anywhere else?!
Looking for the best deli sandwich in town? Peter's Market in Napanoch has a full service deli featuring Boar's Heads products with the best deli side salads and snacks to compliment your favorite sandwich. More importantly, the deli in Peter's Market has homemade soups and daily lunch specials prepared hot and fresh everyday - with a full selection of hot lunch options sure to keep you coming back for more!
Please consider the deli at Peter's Market for your next private party or catered event. The deli manager will meet with you personally to customize a menu for your specific event that will please both guests, and your budget. Call today to discuss your event menu!
PETER'S MARKET - OPEN 7 DAYS - FRESH PRODUCE - QUALITY MEATS & POULTRY - LOCAL DELIVERY AVAILABLE - FULL SERVICE DELI - ORGANIC & NATURAL FOODS - KOSHER & GLUTEN FREE ITEMS - CATERING SERVICES
Like us on Facebook! https://www.facebook.com/petersmarketny/