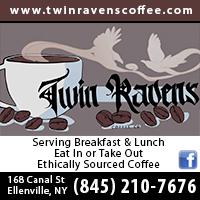 Twin Ravens Coffee Company located at 168 Canal Street in Ellenville, NY Is a wholesale coffee company and cafe serving breakfast and lunch six days a week. Twin Ravens features great breakfast sandwiches and other breakfast options, all served with the best hot coffee in the Ellenville area. For lunch try their fresh, crisp salads, loaded fries and paninis - sure to keep you coming back for more!
Twin Ravens Cafe - The Twin Ravens Cafe serves breakfast & lunch 6 days a week, and features the freshest coffee and best breakfast sandwiches, breakfast omelets, breakfast burritos and breakfast plates in Ellenville. The Twin Ravens also specializes in great lunch options, and boasts the best loaded fries, sandwiches, Panini's and fresh, crisp salads made to order in the Ellenville - Town of Wawarsing area - why go anywhere else?!
Whatever you're craving for breakfast and/or lunch, the Twin Ravens Cafe in Ellenville is sure to please! Eat in, take out and local delivery are all available, call or stop in today!
Twin Ravens Coffee Company - The Twin Ravens Coffee Company proudly features ethically sourced coffee roasted in an environmentally clean conscious facility; either delivered fresh to your door, served locally in their cafe in Ellenville - or other restaurants, deli's & cafes throughout the greater Hudson Valley, NY area.
COFFEE YOU CAN FEEL GOOD ABOUT ALWAYS TASTES BETTER!
At Twin Ravens Coffee Company, their beans are bagged and shipped to them directly from the country of origin. By cutting out middlemen and other traditional point of sale markups, they offer a more transparent and ethical coffee experience that you can taste in every cup!
Mission Statement - Every single coffee bean they roast is done in their solar powered roasting facility, and is grown in the Volcafe manner - which promotes Fair Trade and environmentally safe growing and cultivating methods.
TWIN RAVENS COFFEE COMPANY - ETHICALLY SOURCED, LOCALLY FRESH AND ENVIRONMENTALLY SOUND!