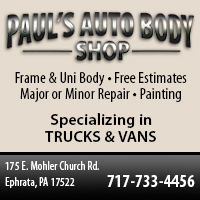 Paul's Auto Body is Ephrata's premier auto collision repair & paint shop providing full service auto body and auto collision repair services to the Lancaster County area since 1990. They are a family-owned and operated business, known for superior auto body repairs and outstanding customer service. Paul's Auto Body in Ephrata PA specializes in car or truck major collision repairs and unibody frame repair, body repairs and painting, collision repairs, wheel alignment, and tire balancing.
Paul's Body Shop of, Ephrata, PA offers Professional Collision Repair at a Great Price. If you need Car, Truck, Van or SUV body repairs, collision repair, painting, refinishing, frame repairs on all makes and models of cars stop in and see or call Paul Martin.
Their Experienced technicians provide time- tested and efficient repair services that help keep your costs low. For Professional Collision Repair at a Great Price Paul's Body Shop is the place to Go!
At Paul's Body Shop, you'll also have a family-owned and operated shop that works directly with insurance companies and offers a 1 year limited warranty on all work.