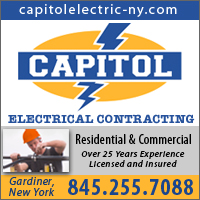 Capitol Electric located in Gardiner, NY is a licensed and fully insured electrician & electrical contractor providing electrical contracting services to their customers in Gardiner, Stone Ridge, High Falls, the Town of Newburgh and the surrounding Orange & Ulster County, NY area. Capitol Electric specializes in electrical service up grades, lighting installation and expert electrical trouble shooting.
Capitol Electric provides electrical contracting services for new construction, commercial, industrial and farm wiring, and also provides electrical contracting services for new construction, additions and renovations - as well as electrical upgrading, electrical service work, and electrical trouble shooting.
Owner and licensed electrician Joe Gentile has over 30 years of experience, so you can feel comfortable in knowing that every job is done to perfection - and to your complete satisfaction and peace of mind.
Modernize Your Electrical System - don't settle or rely on decades-old wiring in your older home or office!
Call Capitol Electric in Gardiner, NY to get set up with new, up-to-date wiring and electrical panels for power you can rely on! If you find yourself tripping your breakers every time you try to run more than one devise or machine on a circuit, call the experts at Capitol Electric - they can install a new and affordable electrical panel with improved grounding to remedy the situation.
More importantly, you can turn to Capitol Electric in Gardiner for expert troubleshooting of any technical issue with your electricity or lighting - their experts can often upgrade your home or office in a single day so that you can rest easy using your electricity, even during a thunderstorm.
Remotely control your heat and lighting for safety in your home: For safety, convenience and peace of mind the experts at Capitol Electric can install Lutron Caseta Wireless dimmers and switches to remotely control lighting and temperature in your home. A remote control and Lutron app for your phone is available. Call today for more information!
Keep your electronics from shorting out - A lightning strike or power surge can do huge damage to your expensive electronics. Call the experts at Capitol Electric in Gardiner to inspect your electrical system - if you need an upgrade, they can offer fast, same-day service that will help keep your home or business safe from catastrophic surges. Capitol Electric can also install panels, ground code and label panels to existing circuits.