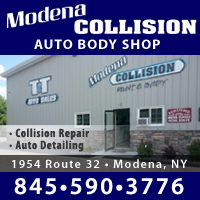 Modena Collision located at 1954 Route 32 in Modena, NY is a auto body shop, auto body repair and collision repair shop serving the Gardiner, Plattekill, Modena, Clintondale, Ardonia, Village of Wallkill and the surrounding area. Modena Collision & Auto Body is a full service auto body and collision repair facility that proudly specializes in high quality auto body paint & auto refinishing services.
Modena Collision features professional auto body and paint matching refinishing services, and provides the best auto body and collision repair services in the Gardiner, NY, Modena, NY, Village of Wallkill, NY and the Plattekill, NY area.
More importantly, Modena Collision is family owned and operated, so they repair every wreck, dent or scratch as if it were their own car. At Modena Collision the job is always done right the first time, and your satisfaction is always guaranteed
Conveniently located on Route 32 a quarter mile south of the 44/55 Route 32 intersection in Modena, NY, Modena Collision provides fair and honest estimates and quick turn around time with insurance companies - Modena Collision in Modena, NY will get you back on the road in no time!
Auto Detailing Services - At Modena Collision and Auto Detailing you can give your auto, boat or bike new life with their professional vehicle detailing services - your car will look better than ever inside and out after it has been detailed by their experienced auto detailing team!
AUTO BODY & COLLISION REPAIR - AUTO DETAILING - 24 HOUR TOWING - QUALITY PRE-OWNED CARS & TRUCKS - INSURANCE WORK
Like Us on facebook! https://www.facebook.com/modenacollision