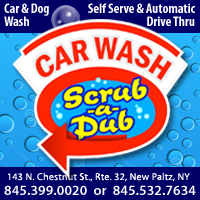 Scrub A Dub Car Wash located at 143 N. Chestnut Street, Route 32, in New Paltz, NY is a self serve & automatic drive-thru car wash and dog wash open 7 days a week 24 hours a day serving New Paltz, Gardiner, Rosendale, Tillson, Rifton, Cottekill, Kingston, Port Ewen and the surrounding New Paltz and Kingston area. Scrub A Dub Car and Dog Wash's are clean & modern, professional and well serviced.
Check out our new web site: http://www.scrubadubny.com
Scrub A Dub Car Wash features 5 self serve car wash bays, 2 automatic drive-thru bays and plenty of strong vacuum cleaners guaranteed to get your car shinning and spotless - all in a clean, newly remodelled and well lighted facility.
Also, for your added convenience, you can wash your dog or cat in Scrub A Dubs clean and professional pet washing center located right on the premises.
Washing your pet at home can be messy and time consuming, why not get into the routine of bringing your dog or cat to Scrub A Dub Car & Dog Wash in New Paltz every time you clean your car, and get two jobs done at once.
More importantly, the Scrub A Dub Pet washing center features everything you need to get the job done right; from shampoo, conditioner, warm water, hot air drying and vacuum services - your pet will leave as clean as your vehicle!
Scrub A Dub Car Wash in New Paltz - serving the New Paltz, Gardiner and Rosendale area. Visit our newly remodelled and updated car & dog wash facility in New Paltz, today!
SCRUB A DUB CAR & DOG WASH - SELF SERVE & AUTOMATIC DRIVE THRU CAR WASH - PET WASHING CENTER - OPEN 7 DAYS 24/7 - CLEAN AND MODERN FACILITIES - FULL VENDING CLEANING & WASHING SUPPLIES
Like us on Facebook!
https://www.facebook.com/pages/Scrub-A-Dub-New-Paltz/781644055276755