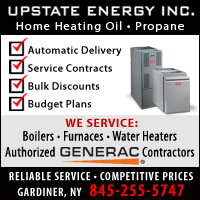 Upstate Energy, Inc. located in Gardiner, NY is a full service home heating oil and propane delivery company that repairs and installs oil, propane & electric furnaces, boilers, water heaters and air conditioning units to their oil service customers in Newburgh, NY, Platekill NY, Gardiner NY - and all of Ulster County, NY. Upstate Energy features bulk discounts, pre-buy plans and COD Discounts.
Locally owned and operated, Upstate Energy, Inc. specializes in quality customer service and competitive prices, and they provide 24 hour emergency service to all of their oil customers.
Also, Upstate Energy in Gardiner, NY features automatic fuel delivery programs, service contracts, budget plans and other money saving plans & discounts that are affordable and tailored to your specific needs - what could be easier and better for your wallet!
More importantly, at Upstate Energy they pride themselves on being a locally owned and operated business, and they are totally dedicated in providing their customers with fast and reliable service at fair and competitive prices.
UPSTATE ENERGY, INC. - RELIABLE SERVICE & COMPETITIVE PRICES
Like us on Facebook!