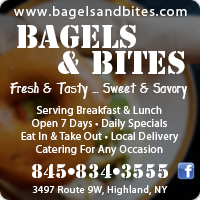 Bagels & Bites located at 3497 Route 9W in Highland, NY has the best breakfast and lunch specials served hot & fresh seven days a week - and proudly serves the best gourmet sandwiches, burgers, wraps and fresh salads to their customers in the Highland, Milton, Clintondale and Town of Lloyd, NY area. Bagel & Bites always serves breakfast and lunch 7 days a week.
Bagels & Bites is a local gourmet cafe in Highland offering freshly cooked and prepared dishes from a variety of cultures, served with unique dining options you won't see anywhere else.
This is more than just a bagel shop! Far more!
At Bagels & Bites they work hard to introduce your taste buds to a variety of flavors that you may not have experienced or tried before; and even though they are called Bagels and Bites, they are just as well known for their ethnically diverse dishes - including Indian, Italian, Greek and vegetarian delights.
Of course fresh bagels are always available, but at Bagels & Bites they also feature an additional selection of healthy traditional American dishes - featuring Gluten free options, sandwiches, wraps, paninis and more.
Enjoying a variety of intensely delicious food is just one aspect of the Bagel & Bites experience - throw in friendly service and great prices and you have the perfect dining combination for the entire family, or just yourself. Regardless, at Bagel & Bites they are always gl ad to have you as their dinning guest!
Bagel & Bites Catering - Please consider Bagel & Bites in Highland for your next private party or catered event. The chefs at Bagel & Bites will personally meet with you to customize a menu that is perfect for your particular event, and at a price that works within your budget. Call today for details.
SERVING BREAKFAST & LUNCH IN HIGHLAND - BEST BREAKFAST AND DAILY LUNCH SPECIALS - SANDWICHES - WRAPS - FRESH SALADS LOCAL DELIVERY & CATERING SERVICES IN HIGHLAND - OPEN 7 DAYS A WEEK
BAGELS & BITES - SO MUCH MORE THAN JUST BAGELS!
Like us on facebook!
https://www.facebook.com/pages/Bagels-Bites/397222536961716
Check us out on Instagram!