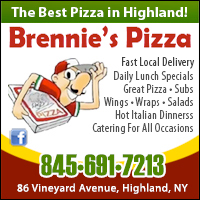 Brennie's Pizza located at 86 Vineyard Ave. in Highland, NY proudly feature the best pizza, hot & cold subs and Italian dinners in the Highland - Town of Lloyd, NY area - at affordable family friendly prices, with the fastest most reliable pizza delivery service in Highland. Brennie's has it all, pasta dinners, appetizers, stromboli's, calzones, hot & cold subs, wings & wraps, it's all here, fresh to order.
Hey! The next time you are in the mood for some fresh New York style pizza in the Highland, Town of Lloyd, NY area - Brennie's Pizza is the only place to go because their delicious homemade pizza is made with only the freshest finest ingredients that you and your family will love and appreciate.
Brennie's Pizza in Highland offers a casual family atmosphere well suited and designed for all to relax and enjoy their favorite pizza and hot Italian dinners.
More importantly, Brennie's Pizzeria also features a broad menu to please both children and adults - from simple classic appetizers, hot & cold subs, to full hot Italian entree's.
Stop in today and experience what everbody already knows, Brennie's Pizza has the best pizza in Highland, and serves fresh to order traditional hot Italian dinners, hot & cold subs, rolls & wraps, calzones, stromboli's, wings, soups & salads, and tasty appetizers in the Highland - Town of Lloyd, NY area. Hands down! Call or stop in today.
Brennie's Catering - Spice things up at your office party or other event with catering from Brennie's Pizza. Brennie's provides quality catering service on and off premises - from 3 to 6 foot party subs to homemade Italian dishes and more, your party's menu will be sure to satisfy everyone's taste buds.
Whether your looking to rent out space in their restaurant or you want us to bring the delicious homemade dishes to you, Brennie's professional, experienced staff and cuisine will exceed your expectations. Call today for details!
Open 7 Days - Dine in - Take out - Delivery - Catering - Daily Specials
Support local businesses while treating your tastebuds! Try some of the top pizzas in Highland, NY or find a new favorite. Brennie's Pizzeria remains one of the most popular restaurants in Highland. Give them a try and see what makes them one of the iconic pizzeria's in the Hudson Valley.