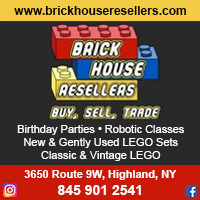 Brick House Resellers is a LEGO® store located at 3650 Route 9W in Highland, NY that features new and gently used LEGO® sets, classic & vintage LEGO® collectibles and LEGO® mini figures. Brick House Resellers also has LEGO® Robitic Classes, LEGO® birthday parties and everything for the LEGO® fan in Kingston, New Paltz, Poughkeepsie, Newburgh, Goshen & the Hudson Valley, NY area.
LEGO® Buy, Sell & Trade!
Brick House Resellers is one of the largest building brick toy stores in the Hudson Valley. Their brick storefront in Highland, New York offers hundreds of pounds of LEGO® pieces to pick through, new, used & discontinued sets and unique LEGO® Minifigures.
At Brick House Resellers, their retail space has nearly 1,500 square feet of LEGO® for sale and on display! You can make purchases within the store, over the phone or from our on-line store and we will ship your purchase to you or have it ready for pick up! Interested in selling or trading your LEGO® ?
More importantly, at Brick House Resellers they pay competitive wholesale prices, just bring your LEGO® into the store monday thru Friday - or call for details!
LEGO® Parties - Their parties are the best!
Schedule your Childs birthday party at their store - they offer hosted parties on Saturday's & Sunday's. What could be better than a Brick House themed party for your LEGO® fan? Your child and their friends will love it!
Cleaning Practices - Your health and safety is their number one priority! At Brick House Resellers in Highland, NY they clean with CDC approved cleansers, and their Pick-O-Brick tables are sprayed with approved disinfectant throughout the day, and are changed out and washed on a regular bases. Hand sanitizer stations are located throughout the store. If you require latex gloves and or masks, please ask they will be happy to assist.
NEW & GENTLY USED LEGO® - CLASSIC AND VINTAGE LEGO® SETS & MINIFIGURES - BULK LEGO® - LEGO® CLASSES - LEGO® COLLECTIBLES
Like us on Facebook!
https://m.facebook.com/brickhouseresellers/
Check us out on Instagram!